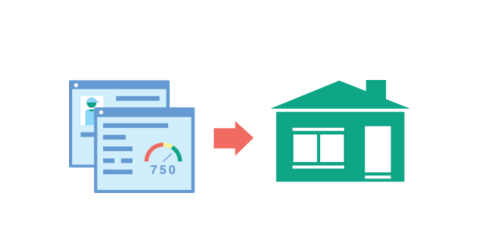 In a prior article, Why Renters Should Run Their Own Credit Reports, we explained the benefits of renters running their own reports as part of the applicant screening process. The primary concerns we received as feedback from readers was the possibility of the reports being outdated or fraudulent. These concerns are certainly valid in cases where the renter is hand-delivering, emailing, or faxing a report to the landlord. The recipient landlord wouldn't be able to confirm when the report was run and that the information has not been changed.
At Properly, we spent a great deal of effort developing an applicant screening process that is simple to use but more importantly, safe and secure. Here's how we plan to handle this essential step of the application process.
Properly's Applicant Screening Process
A Properly screening report always includes a full credit report (not simply a "credit recommendation" that many services offer), a background and criminal check (search of state and national criminal records, National Sex Offender Registry, Most Wanted Databases), and evictions reporting (search of public court records and evictions databases). We partnered with Transunion, one of the major credit bureaus in the U.S. to ensure the data is from a source you trust.
All steps in this screening process is performed online through Properly's web-based platform.
Okay, so what is the process for running and viewing a report?
First, the screening request can be initiated by either the landlord or the renter. A landlord can request a report by entering an applicant's email address or a renter can just simply start running a report.
Second, the renter submits his or her own personal information (name, birthdate, address, social security number). The renter then answers several authentication questions which are personal questions to confirm the renter's identity. You likely have answered these types of questions before if you've previously ran your own credit report online.
Third, once the data is retrieved from Transunion, it is automatically displayed in a report format that is easy to read and digest. We strongly recommend renters fully review the information to ensure the report is complete and accurate. If there are errors, the renter should file a dispute with the credit reporting companies (Transunion, Experian, and Equifax) as soon as possible. We'll certainly provide guidance here if needed. It is important to note that these inaccuracies are not caused by Properly. Since the source data from the credit reporting companies is inaccurate, they will show up on your credit report no matter which provider you use to pull the report.
Fourth, the renter shares the screening report with landlords by entering their email addresses. Each landlord is notified and can view the report through our platform. When a landlord retrieves the report, the information is pulled directly from Transunion. This same retrieval process occurs each time a landlord views the report. Unlike with emailing, faxing, or hand-delivering, there is no opportunity for the report to be changed because it is pulled from the source data every time with no exceptions.
Lastly, let's take a look at the benefits noted in the prior article to see if they still hold.
Benefits for Landlords
No need to collect SSNs – Yep because renters are running their own reports.
No need to ensure appropriate safeguarding of SSN – Yep. The screening reports shared with landlords will not display SSNs.
No need to use a third party credit reporting service – The entire application process can be managed on Properly rather than needing to go to multiple providers for different services. We designed our product to be all inclusive as well as easier, faster, and cheaper to use.
No need to argue over who pays – Renters pay for their own reports which are always free for landlords to view.
No need to send the credit reports to applicants – No longer necessary because renters review their own reports for accuracy before sharing with landlords.
Benefits for Renters
No need to share SSN with strangers – Yep.
No need to worry about hits to your credit score – Since the renter has direct involvement in running the report, our process ensures that all inquiries are registered as 'soft' and will never negatively impact credit scores.
No need to worry about others making mistakes – Yep. Also, our product is designed to minimize the chances of a renter making his or her own mistakes.
No need to pay for the same credit report multiple times ­– Renters pay only once for the report and then have unlimited shares for 30 days at no additional charge. This saves a lot of money for renters who are submitting applications to multiple landlords and listings!
No need to be in the dark – The report is displayed to the renter first for review. This prevents the application from being rejected due to inaccurate or incomplete information, which is unfair to both parties.
What do you think of our applicant screening process? We always welcome feedback because we want to make sure we are delivering on what our users truly want and need.